Operational Logistics & Readiness
Our proven team possess decades of experience in special operations and defense logistics planning and coordination. We conduct cost effective logistics and supply chain management and implementation processes, leveraging data driven solutions to deliver resources globally.
We understand how important it is for an organization to connect its planning and operations. Our team has decades of experience at leading integration and teaching best practices to improve our customer's performance.
The Logistics Visualization Tool performs four functions: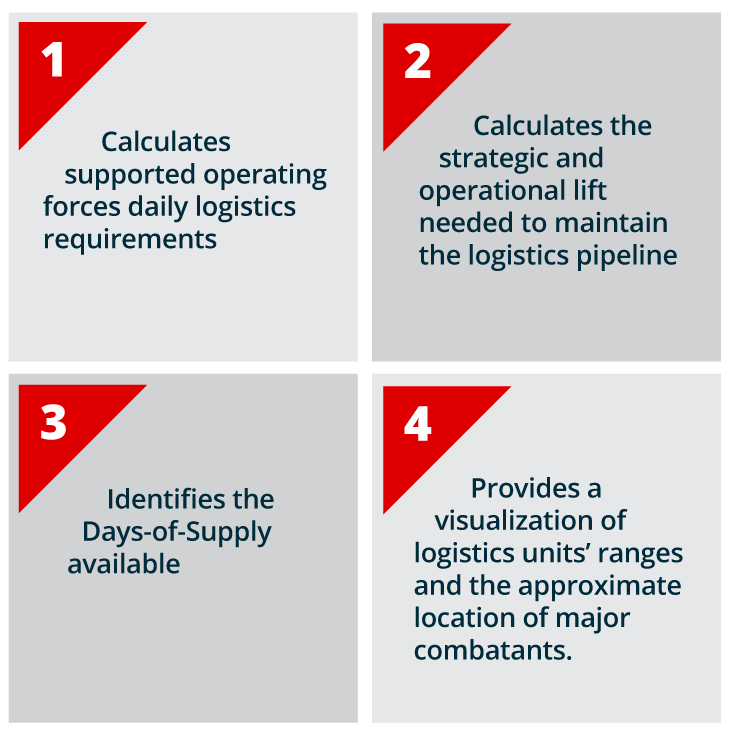 We provide logistics services that enable our customers to thrive under adversity. Our team has decades of experience with Transportation, Distribution, Continuity Planning activities, and leading Crisis Action Planning, Crisis Action Teams and Contracting Support Services. We provide a cohesive method to plan, execute, mentor, and adjust logistics systems leveraging our clients' teams. Our experiences across logistics areas allow us to design processes that simplify complex issues and maximize performance all supported by advanced data analytics.
Impact of Operational Logistics & Readiness Support through the Logistics Visualization Tool
The Logistics Visualization Tool is a planning application that displays logistics demand modifications resulting from operational condition adjustments. Using the tool, planners can quickly visualize the logistics effects of situational changes such as maneuver units arriving or leaving theater, loss or damage to logistics units, bad weather, or increased risk of enemy action.
Structure
The Logistics Visualization Tool is an Excel application. Excel was chosen based upon user requirements that the system can run on multiple platforms including deployed laptops. Logistics demand/requirements are generated from historic data; however, the tool can update the files with revised information when communications are available. This allows planners to run the tool on standalone machines with the ability to update data when connected to higher headquarters.
Strategic & Operational Planning
We leverage state-of-the-art management frameworks and tools coupled with analytics to develop operating models that effectively bridge the gap between strategy and execution, helping our clients achieve their desired outcomes along with adequate KPIs to ensure long-term success.