by Dan Hudson, PhD, CAP, CPH
Chief Technology Officer and Chief Data Scientist
Welcome to our brand-new website! In designing our new platform, we chose to include an "Insights" section, where we will feature insights developed from the work that we do and our subject matter expertise.
In this first post, I address a common question that arises in conversations with clients, industry partners, new employees, friends, and family members: "Where does the 'ReefPoint' in 'ReefPoint Group' come from?" It is a great question that deserves a thoughtful response. As you might imagine, we did not arrive at this name by simply drawing names out of a hat. Below, I will share the two key drivers that influenced our decision to name our company ReefPoint Group and why they matter.
A tribute to the Naval Academy
ReefPoint Group was originally founded in 2008 by graduates of the United States Naval Academy (USNA) in Annapolis, Maryland—home to our company headquarters. Many members of our leadership team, Board of Directors, and staff are USNA alumni. The mission of USNA is:
"To develop Midshipmen morally, mentally and physically and to imbue them with the highest ideals of duty, honor and loyalty in order to graduate leaders who are dedicated to a career of naval service and have potential for future development in mind and character to assume the highest responsibilities of command, citizenship and government."
When starting ReefPoint Group, our founders wanted to show gratitude for the education, experience, and development they received at USNA that forever shaped their professional lives and would continue to influence their leadership of the company into the future.
So how does "ReefPoint" fit in as a tribute to USNA? When you arrive for your first day of your freshman year at USNA, in addition to getting a streamlined haircut and a new set of uniforms, you are issued your copy of Reef Points. Reef Points is the official midshipmen handbook that documents in detail thousands of facts concerning USNA and Navy missions, histories, traditions, leadership principles, and guidelines. As part of their indoctrination, incoming freshmen called "plebes" must memorize the information contained in Reef Points from cover to cover. It becomes the ultimate guide during their entry into military life. It so vital to USNA life and training, they must have their copy on their person any time they are outside their room and can be quizzed on its contents at any moment. These requirements force plebes to learn time management skills and develop their ability to learn, retain, and recall vast amounts of information under pressure. These skills will be critical during their careers as Naval Officers, when they will be called upon to have a thorough knowledge of many interrelated details to issue appropriate and reasoned commands, particularly when the stakes are high. In addition to developing these skills, Reef Points provides midshipmen with a sense of community and teamwork, as they learn and grow together in the same tradition as the generations who preceded them and as those who will follow them.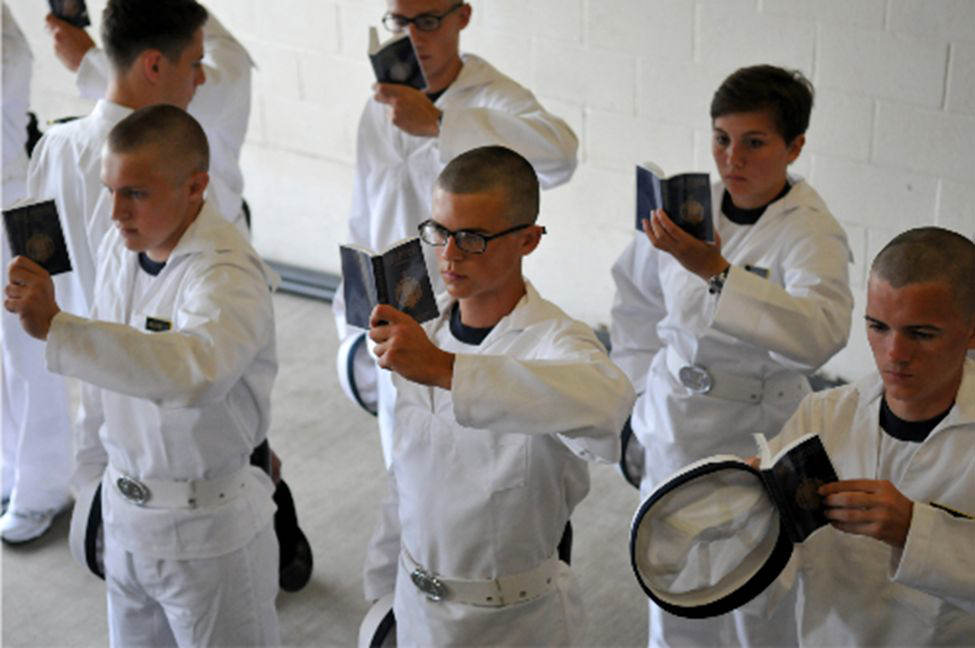 Reef Points is the ultimate guide for plebes to turn to during their entry into military life
A sailing analogy that resonates with ReefPoint Group's mission, vision, and values
"Fair winds and following seas" is a phrase traditionally used by mariners to wish each other good luck and implies that a vessel will have good winds and easy, safe sailing. Under such conditions, sailors can enjoy the art of sailing and rely primarily on their intuition and judgment based on patterns and rules learned through their previous experience to safely navigate the vessel and successfully reach their destination. However, understanding of the science of sailing becomes critical to safe and successful navigation under harsh or unfamiliar conditions where learned patterns may not apply, intuition may be flawed, and the safety of the vessel and crew are at stake.
Skilled sailors rely on a ship's reefing system to ensure controlled and safe navigation no matter the conditions. "Reefing" is an essential part of sailing science and represents the primary safety precaution in harsh or unfamiliar conditions. Reefing reduces the area of a sail, usually by folding or rolling one edge of the canvas in on itself and securing the excess fabric to the boom using sturdy ties called "reef points." These reef points improve vessel stability, enhance visibility from the cockpit, and minimize the risk of damage, thereby enabling a vessel to safely navigate strong winds, rough seas, or uncertain conditions.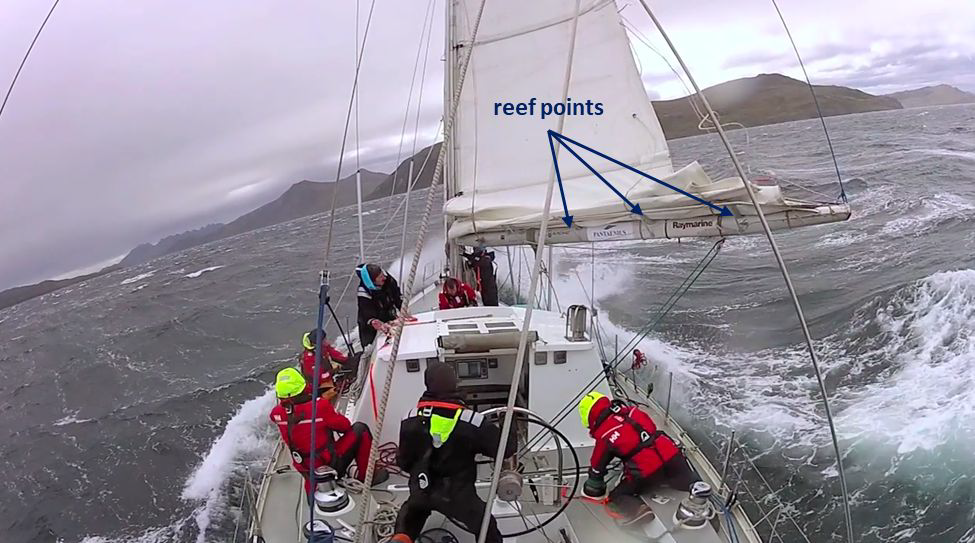 Reef points improve stability, enhance visibility, and minimize risk of damage in any condition
Tying it all together
At ReefPoint Group, our mission is to develop innovative solutions and apply our deep and broad industry knowledge to enable our clients to better leverage data and technology as strategic assets to achieve excellence in an ever-changing world. Our vision and guiding principles are:
WE SERVE. Our team continues meaningful service, improving the performance, efficiencies and effectiveness of military and government agencies who take care of our servicemembers, veterans and their families.
WE INNOVATE. Our team draws from industry experience and best practices to design and develop data, process, and technology solutions to drive innovation.
WE EMPOWER. Our team uses innovative technologies and analytics to help you efficiently discover new insights, spur innovation, navigate change, drive performance improvement, and create stakeholder value.
Reef Points serves as the ultimate guide for plebes during a challenging indoctrination period at USNA and empowers them with enduring skills they will depend upon during their careers of service as Naval Officers and beyond. Similarly, sailors rely on reef points on a sail to improve vessel stability, enhance visibility, and minimize the risk of damage to ensure controlled and safe navigation even under the most tumultuous conditions. In much the same way, ReefPoint Group serves as a trusted partner to our clients, helping them navigate difficult problems with innovative solutions, and empowering them to achieve and sustain excellence in our ever-changing world.
In my next post, I will take a deeper dive into the critical role that analytics plays as a core capability that underpins all of the work that we do at ReefPoint Group and how analytics can help organizations prepare for, respond to, and recover from unprecedented events like the COVID-19 pandemic. Stay tuned!