Technology Integration & Interoperability
We recognize that effectively implementing and sustaining technology in an affordable manner is one of the biggest challenges any organization can face. With our unique understanding of data science and systems engineering, we take a holistic view to integration and interoperability that goes beyond the digital world and is grounded in the needs of physical and business processes so that the technology is working for the user instead of the user working for the technology.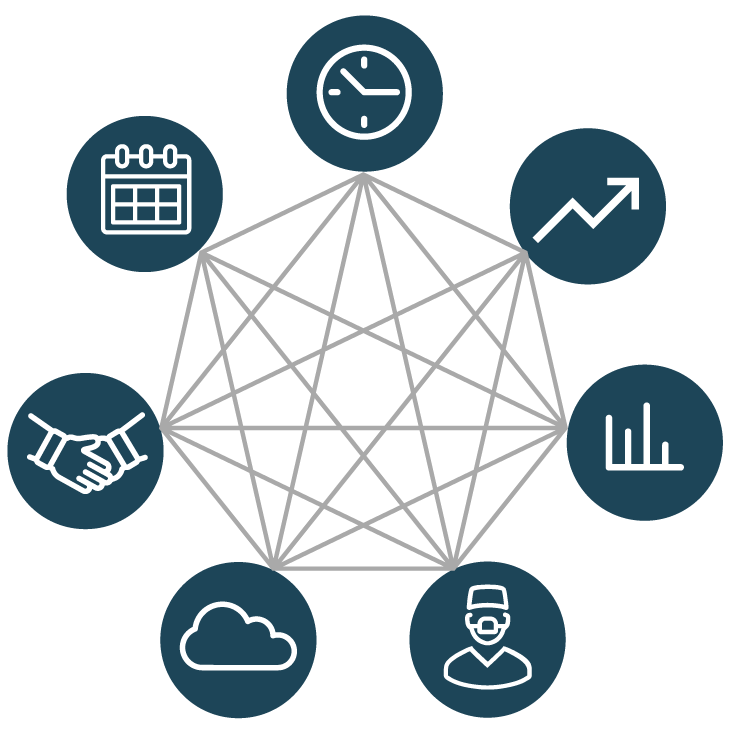 Intelligent Decision Making
We work with customer leadership to define and prioritize information necessary to make decisions at the highest levels of business, connecting existing data to decision-makers seamlessly, while cutting through the noise of extraneous metrics and data, and incorporating our data science methodologies for predictive and prescriptive modeling to illuminate the best path forward.
We are constantly exploring and reviewing emerging technologies and comparing vendors to identify good partnerships to support our own business, and we offer the same services and evaluation methodology to our customers. Additionally, we already have a growing number of regular industry partners that address any number of complex challenges.
Using our program management and strategic planning approaches, we work with leadership to align existing technologies to organizational goals and objectives, allowing for a comprehensive view of the IT portfolio that evaluates cost and effectiveness of each individual technology in the ecosystem while also identifying gaps and redundancies that can limit business success.
We work with your internal IT team to understand your existing policies and protocols, making recommendations for industry leading best practices. This includes federal and commercial security standards, data quality and integration protocols, custom program interface development solutions, and auditability standards.
Workflow Management & Configuration
We help to overcome barriers in utility of technology by helping users understand the realm of possible within IT programs, how to appropriately configure software to integrate with existing workflows and processes, and most efficiently accomplish their responsibilities, while limiting the headaches of segmented workflows across multiple systems.
We strive to help our customers understand what is in the realm of possible and offer an evaluation of your organization's data maturity across the business spectrum. Helping customers grow from raw data through aggregation to insight and intelligent decision making, while minimizing the investment needs for that journey maximizes data utility.