Health Innovation & Technology
We enhance existing operational and technical systems and deliver innovative solutions that optimize workflow and scalability essential to the business of healthcare with a key focus on leveraging data to drive clinical, administrative, and financial solutions.
ReefPoint Group has developed the Model for Excellence in Design and Improvement in Care (MEDIC) methodology to support healthcare innovation and transformation.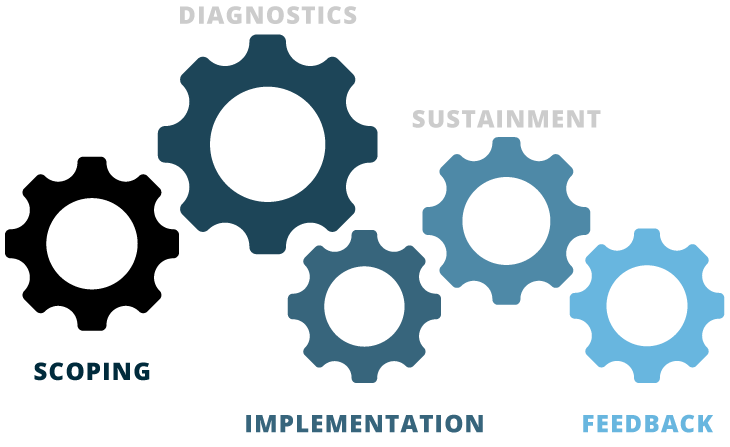 We leverage state-of-the-art management frameworks and tools coupled with analytics to develop operating models that effectively bridge the gap between strategy and execution, helping our clients achieve their desired outcomes along with adequate key performance indicators (KPIs) to ensure long-term success.
We provide comprehensive implementation support services ranging from training and coaching stakeholders to supporting executives and leaders with strategic communications while simultaneously supporting pilot phases and evaluating KPIs to improve solutions and go-live implementations.
Our team of experts utilize market research to deliver sustainable platforms for innovation through rapid development and deployment of applications that anticipate everchanging needs and priorities while reducing time to value.
We provide comprehensive services to help clients understand their current state by performing baseline performance analytics and conducting gap analyses, developing a plan to achieve a future state by clarifying objectives, requirements, and constraints, and support sustainability by developing Key Performance Indicators (KPIs) and success criteria.
We provide comprehensive sustainment support: evaluation of implemented business processes against success criteria; dashboards; identification of future enhancements; coaching of stakeholders to take ownership; continuous improvement education and tools; on-call support.
We support comprehensive change management by co-creating solutions along with our clients to introduce new processes and technologies methodically and strategically. We leverage visualization techniques to successfully explain the benefits of the changes and define roadmaps to achieve long-term goals.
We provide lasting value to our customer base, addressing institutional barriers to change and working to instill a culture of advancement, including coaching performance improvement and high reliability organization (HRO) principles throughout the engagement to dashboards and reporting tools to support sustained performance.